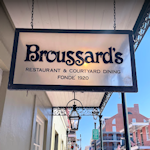 Broussard's is a renowned restaurant located in the French Quarter of New Orleans, Louisiana. It has a rich history that dates back to 1920, when Joseph Broussard, a Louisiana native and veteran of World War I, opened the restaurant. Broussard's has since become an institution in New Orleans, renowned for its fine dining and exceptional service.
The restaurant's menu features a blend of classic Creole and contemporary French cuisine, with an emphasis on fresh, local ingredients. Some of the signature dishes at Broussard's include the Shrimp & Grits, the Louisiana Blue Crab Cakes, and the Oysters Broussard.
In addition to its exquisite food, Broussard's is also known for its beautiful atmosphere. The restaurant is housed in a historic building that dates back to the 1830s, and the interior is decorated with elegant furnishings and artwork. There are multiple dining rooms, each with its own unique character, including a courtyard and a wine cellar.
Broussard's is also known for its extensive wine list, which features a wide range of both domestic and international wines, as well as a selection of classic and contemporary cocktails.
Broussard's is a must-visit destination for anyone looking for a fine dining experience in New Orleans. Its combination of delicious food, beautiful atmosphere, and impeccable service make it a true gem of the city's culinary scene.
Broussard's: Classic Creole, 819 Conti, New Orleans (French Quarter) map - 581-3866