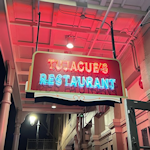 Tujague's is a historic restaurant located in the French Quarter of New Orleans, Louisiana. It was founded in 1856 by Guillaume and Marie Abadie Tujague.
The restaurant is known for its famous dishes such as shrimp remoulade, beef brisket with horseradish sauce, and a traditional New Orleans-style brunch. In addition to the food, Tujague's is also known for its classic cocktail program, with drinks like the Grasshopper and the Sazerac being local favorites.
The building itself is also steeped in history, with the main dining room featuring a mahogany bar that dates back to 1856, as well as original gas lamps and tile floors. Tujague's has been named a New Orleans culinary landmark by the Louisiana Restaurant Association, and has also been featured in numerous travel and food publications.
Tujague's: Classic Creole, 823 Decatur St, New Orleans (French Quarter) map - 525-8676