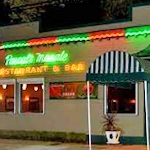 Pascal's Manale is a historic Italian-American restaurant located in Uptown New Orleans. The restaurant was opened in 1913 by Pascal Radosta and his wife Catherine, and has been a beloved dining destination for locals and visitors alike ever since.
One of the restaurant's most famous dishes is their "Barbecue Shrimp," which is actually a sautéed shrimp dish cooked in a buttery, spicy sauce, rather than being grilled or barbecued. The recipe for this dish has been a closely guarded secret for many years, and is considered by many to be one of the best dishes in the city.
In addition to the famous Barbecue Shrimp, Pascal's Manale also serves a variety of other classic Italian-American dishes, such as oysters Rockefeller, veal parmesan, and spaghetti and meatballs. The restaurant also has a full bar, and an oyster bar.
Pascal's Manale has a cozy, old-school atmosphere, with dark wood paneling, white tablecloths, and photos of local sports legends adorning the walls. The restaurant is a popular spot for special occasions and celebrations, and has been featured in numerous books and TV shows about New Orleans cuisine.
Trivia: Even though they know better, locals most often refer to the restaurant as "Pascal Manale's".
Pascal's Manale: Classic Creole, 1838 Napoleon Ave, New Orleans (Uptown) map - 895-4877