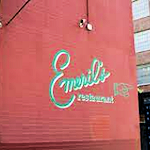 Emeril's is named after its owner and chef, Emeril Lagasse, a well-known celebrity chef who has also hosted several cooking shows on television.
Emeril's is known for its modern take on classic New Orleans cuisine, blending traditional flavors with innovative techniques and presentation. The menu features a range of dishes, including seafood, steak, and other meat dishes, as well as vegetarian options.
Some of the signature dishes at Emeril's include the New Orleans Barbecue Shrimp, which features Gulf shrimp cooked in a spicy butter sauce, and the Andouille-crusted Redfish, which is a fillet of redfish coated in a mixture of andouille sausage and breadcrumbs and served with a creamy sauce.
The restaurant also offers an extensive wine list and a selection of cocktails, including its famous "Bam!," which is made with rum, orange liqueur, and tropical juices.
Emeril's has received numerous awards and accolades over the years, including a James Beard Foundation award for Best Chef: Southeast, and has been featured in many publications and television shows.
The restaurant is located in a historic building in the Warehouse District of New Orleans, with a classic interior design that includes exposed brick walls, a large open kitchen, and an elegant bar area. It's a popular spot for both locals and tourists, and reservations are recommended.
Emeril's: Louisiana Contemporary, 800 Tchoupitoulas, New Orleans (Warehouse District) map - 528-9393