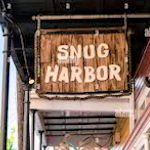 Snug Harbor is a restaurant and jazz club located in the Faubourg Marigny neighborhood, just outside the French Quarter. The restaurant has been a fixture in the city's dining and entertainment scene since it first opened its doors in 1983.
The menu at Snug Harbor features a variety of classic New Orleans dishes, such as gumbo, jambalaya, and red beans and rice. In addition to the main dining room, there is also a bar area where patrons can enjoy cocktails and small plates.
However, what sets Snug Harbor apart is its live jazz music. The restaurant's Jazz Bistro features nightly performances by some of the city's top jazz musicians, including local legends like Ellis Marsalis and Charmaine Neville. The intimate setting and top-notch music make it a popular destination for both locals and tourists alike.
If you're looking for a great meal and some fantastic live jazz in New Orleans, Snug Harbor is definitely worth a visit.
Snug Harbor: Burgers, 626 Frenchmen, New Orleans (Marigny) map - 949-0696