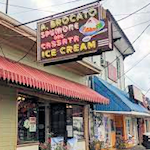 Angelo Brocato is a historic Italian dessert and pastry shop located in New Orleans' Mid-City. The shop was founded in 1905 by Angelo Brocato, an Italian immigrant who brought his family's recipes for traditional Sicilian desserts to the United States.
The shop has been a beloved fixture in the New Orleans culinary scene for over a century, and is particularly famous for its gelato and Italian ice cream. The gelato is made in-house using traditional methods, and is available in a wide range of flavors, including classics like chocolate and pistachio, as well as more unusual flavors like fig and honey.
In addition to gelato, Angelo Brocato also serves a variety of other Italian desserts and pastries, such as cannoli, tiramisu, and sfogliatelle. The shop also offers coffee and espresso drinks to pair with its sweets.
Angelo Brocato has been recognized as a cultural landmark by the city's Historic District Landmarks Commission. It continues to be a popular destination for both locals and tourists alike, and is considered a must-visit spot for anyone looking to experience the flavors of traditional Italian desserts in the heart of New Orleans.
Angelo Brocato: Dessert/Ice Cream, 214 N Carrollton Ave, New Orleans (Mid-City) map - 486-1465