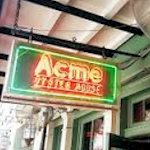 Acme Oyster House is a popular New Orleans seafood restaurant. It was founded in 1910 and has been serving up delicious seafood for over a century.
The restaurant is known for its fresh oysters, which are shucked right in front of customers at the oyster bar. Acme Oyster House offers a variety of oyster dishes, including raw oysters on the half shell, charbroiled oysters, and oyster po'boys.
In addition to oysters, the restaurant also serves other seafood dishes such as gumbo, jambalaya, crawfish etouffee, and seafood platters. The menu also includes non-seafood options such as burgers and sandwiches.
Acme Oyster House has a casual and laid-back atmosphere, with a mix of locals and tourists dining at the restaurant. The walls are adorned with sports memorabilia and local artwork, adding to the ambiance of the dining experience.
The restaurant has multiple locations in New Orleans, including one in the French Quarter on Iberville Street, which is the original location. It has been featured in numerous food and travel shows, and is considered a must-visit destination for seafood lovers visiting New Orleans.
Acme Oyster House: Seafood, 724 Iberville, New Orleans (French Quarter) map - 522-5973
Acme Oyster House: Seafood, 3000 Veterans Blvd, Metairie (Metairie Below Causeway) map - 309-4056
Acme Oyster House: Seafood, 1202 US Hwy 190, Covington (Northshore) map - 985-246-6155