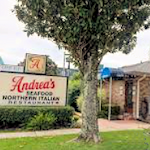 Andrea's Restaurant is a popular Italian restaurant located in Metairie, a suburb of New Orleans. It was founded in 1985 by Chef Andrea Apuzzo, who was born and raised in the Italian region of Amalfi.
The menu at Andrea's features traditional Italian dishes such as homemade pastas, fresh seafood, and classic meat dishes. Some of their most popular menu items include the Veal Parmigiana, Shrimp Scampi, and Oysters Andrea, which are oysters baked with spinach, bacon, and parmesan cheese.
In addition to its delicious food, Andrea's also offers an extensive wine list and a full bar. The restaurant has an elegant and inviting atmosphere, with white tablecloths, dim lighting, and Italian artwork adorning the walls.
Over the years, Andrea's has received numerous accolades and awards, including being named one of the "Top 100 Restaurants in America" by OpenTable. The restaurant is a popular destination for locals and tourists alike, and reservations are recommended, especially on weekends.
Andrea's: Italian, 3100 19th Street, Metairie (Metairie Below Causeway) map - 834-8583