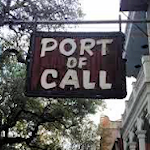 Port of Call is a popular restaurant located at the edge of the French Quarter. When original owner George Brumat first opened Port of Call in the 1960s, its main offering was steak. Back then, the burgers were an afterthought, ground from leftover steaks and offered on an as-available basis.
While steaks are still on the menu, Port of Call has become best known for its burgers, which are made with 100% in-house ground chuck, topped with grated cheddar cheese, and served on a sesame seed bun with a side of baked potato. Other popular burger options include the mushroom burger.
The restaurant also has a full bar, serving a range of cocktails, beer, and wine. The Monsoon cocktail, made with several types of rum, fruit juice, and grenadine, is a customer favorite.
The restaurant has a casual, laid-back atmosphere, with wooden booths and walls covered in sports memorabilia. Port of Call is open seven days a week, from 11:30am to 12:00am, and does not accept reservations. The restaurant can get crowded during peak hours, so be prepared to wait for a table.
Port of Call: Burgers, 838 Esplanade, New Orleans (French Quarter) map - 523-0120