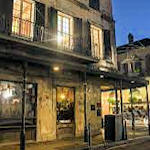 The Napoleon House is a historic restaurant and bar located in the French Quarter of New Orleans. The building that now houses the restaurant was originally built in 1797 as a residence for the mayor of New Orleans, but was never actually inhabited by him. In 1821, the building was purchased by a businessman named Nicholas Girod, who had previously served as the mayor of New Orleans himself. Girod offered the building to Napoleon Bonaparte in 1821 as a refuge during his exile, and though Napoleon never made it to New Orleans, the building has been known as the Napoleon House ever since.
The Napoleon House is known for its classic New Orleans cuisine, including favorites like muffulettas, gumbo, and po'boys. The restaurant also serves a variety of cocktails, including the famous Pimm's Cup, which is made with Pimm's No. 1 liqueur, lemonade, and soda water. The atmosphere of the restaurant is cozy and casual, with exposed brick walls, a large fireplace, and a courtyard filled with greenery.
In addition to its food and drink offerings, the Napoleon House is also known for its history and cultural significance. The building has been recognized as a National Historic Landmark, and is a popular destination for tourists and locals alike who are interested in exploring New Orleans' rich history and vibrant food culture.
Napoleon House: Sandwiches/Deli, 500 Chartres, New Orleans (French Quarter) map - 524-9752