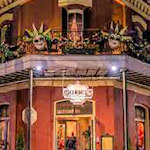 Muriel's is a well-known restaurant located in the French Quarter of New Orleans, overlooking historic Jackson Square. The restaurant has a rich history and is located in a building that dates back to the 1800s.
The restaurant offers a menu that features classic New Orleans cuisine with a modern twist, such as gumbo, jambalaya, and shrimp and grits. They also offer a variety of seafood dishes, steaks, and salads.
One of the standout features of Muriel's is its elegant dining rooms, which are decorated with antique furniture and artwork. The restaurant also has a bar area, which offers a selection of craft cocktails and a wide range of wines.
Muriel's is also known for its ghostly presence. The restaurant is said to be haunted by the ghost of its former owner, Pierre Antoine Lepardi Jourdan. The restaurant has even set up a special table for Jourdan's ghost, which is set with fresh bread and wine each night in his honor.
Muriel's is a popular restaurant in New Orleans, known for its delicious food, elegant atmosphere, and unique history.
Muriel's: Contemporary Creole, 801 Chartres, New Orleans (French Quarter) map - 568-1885