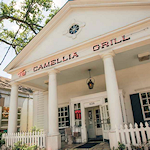 The Camellia Grill is a historic restaurant located in the Riverbend neighborhood of Uptown New Orleans on Carrollton Avenue. It first opened its doors in 1946 and has been serving up classic Southern diner fare ever since.
The restaurant is famous for its retro decor and lively atmosphere. The iconic counter seating, jukebox, and paper hats worn by the staff all add to the unique charm of the Camellia Grill.
The menu features traditional Southern breakfast dishes such as omelets, pancakes, and grits, as well as classic diner fare like burgers and sandwiches. The restaurant is also known for its famous pecan pie and milkshakes, which are made with real ice cream and come in a variety of flavors.
The Camellia Grill is a must-visit for anyone looking to experience the classic New Orleans diner scene and enjoy some delicious Southern comfort food.
Camellia Grill: Diner/Neighborhood Cafe, 626 S Carrollton Ave, New Orleans (Riverbend) map - 309-2679