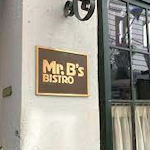 Mr. B's Bistro is a popular restaurant located in the heart of the French Quarter in New Orleans, Louisiana. The restaurant is known for its classic Creole and Cajun cuisine, as well as its elegant and cozy atmosphere.
Mr. B's Bistro has been a favorite among locals and visitors alike since it opened in 1979. The restaurant is owned and operated by Cindy Brennan, a member of the well-known Brennan family that has been synonymous with the New Orleans restaurant scene for generations.
The menu at Mr. B's Bistro features a variety of traditional New Orleans dishes, including gumbo, jambalaya, and crawfish étouffée. Some of the restaurant's signature dishes include the BBQ shrimp, which is served in a spicy butter sauce, and the roasted duck with ginger-peach glaze. The restaurant also offers a variety of seafood dishes, including grilled fish and shrimp scampi.
In addition to its food, Mr. B's Bistro is known for its extensive wine list and creative cocktails. The restaurant also offers a popular Sunday jazz brunch, which features live music and a special menu.
The atmosphere at Mr. B's Bistro is warm and inviting, with dark wood paneling, white tablecloths, and soft lighting. The restaurant is also known for its excellent service, with a staff that is attentive and knowledgeable about the menu and wine list.
Mr. B's Bistro is a must-visit restaurant for anyone looking to experience the best of New Orleans cuisine and hospitality.
Mr B's Bistro: Contemporary Creole, 201 Royal St, New Orleans (French Quarter) map - 523-2078