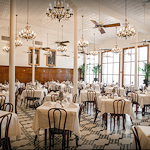 01.11.09 Archie Casbarian, who revived French Quarter icon Arnaud's Restaurant in the late seventies, has died. He was 72.
Arnaud's is a historic restaurant located in the heart of the French Quarter in New Orleans, Louisiana. It was founded in 1918 by a French wine salesman named Arnaud Cazenave, and over the years has become an iconic dining destination in the city.
The restaurant is known for its classic Creole cuisine, including dishes such as gumbo, étouffée, and jambalaya, as well as fresh seafood and prime cuts of meat. Arnaud's also boasts an extensive wine list and a classic cocktail bar, the French 75 Bar, which is named after the famous World War I artillery piece.
The interior of Arnaud's is elegant and opulent, with crystal chandeliers, plush red velvet seating, and antique mirrors and artwork adorning the walls. The restaurant also features a Mardi Gras Museum, which houses a collection of costumes, photographs, and memorabilia from past Carnival celebrations.
In addition to its restaurant and bar, Arnaud's also offers private dining rooms and event spaces for weddings, corporate events, and other special occasions.
Arnaud's is a beloved institution in New Orleans, known for its delicious food, elegant ambiance, and rich history. It is a must-visit destination for anyone looking to experience the best of classic Creole cuisine and Southern hospitality in the city.
Arnaud's: Classic Creole, 813 Bienville, New Orleans (French Quarter) map - 523-5433