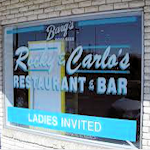 Rocky and Carlo's is a restaurant located in Chalmette, Louisiana, which is about 15 miles southeast of downtown New Orleans. The restaurant has been a local favorite since it first opened its doors in 1965.
The menu at Rocky and Carlo's is focused on traditional Italian-American dishes and Creole cuisine, with a heavy emphasis on comfort food. Some of the most popular items on the menu include the macaroni and cheese, the stuffed artichokes, and the seafood platter. The portions are famously large, so it's a great spot to visit if you're looking for a hearty meal.
In addition to the food, Rocky and Carlo's is known for its casual and friendly atmosphere. The restaurant is family-owned and operated, and the staff is known for being welcoming and attentive. The interior of the restaurant is spacious and decorated with vintage New Orleans memorabilia, which adds to the overall charm of the place.
If you're looking for a classic New Orleans restaurant experience with a focus on Italian-American and Creole cuisine, Rocky and Carlo's is definitely worth checking out.
Rocky & Carlo's: Diner/Neighborhood Cafe, 613 W St Bernard Hwy, Chalmette (St. Bernard) map - 279-8323