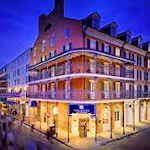 Begue's is a restaurant located in the heart of the French Quarter in New Orleans, Louisiana. The restaurant is known for its classic Creole cuisine, including dishes such as gumbo, jambalaya, and seafood étouffée.
The atmosphere at Begue's is upscale and elegant, with white tablecloths and crystal chandeliers adding to the ambiance. The restaurant is located inside the historic Royal Sonesta Hotel, which dates back to the 1800s.
Some of the standout dishes at Begue's include the shrimp and grits, crawfish étouffée, and the bananas foster, which is prepared tableside with a dramatic flame show. The restaurant also offers an extensive wine list, as well as classic New Orleans cocktails such as the Sazerac and the Ramos Gin Fizz.
Begue's is open for breakfast, lunch, and dinner, with a menu that showcases the best of Louisiana's rich culinary heritage. Whether you're a local or a visitor to New Orleans, Begue's is definitely worth a visit if you're looking for a memorable dining experience.
Begue's: Louisiana Contemporary, 300 Bourbon(in the Royal Sonesta), New Orleans (French Quarter) map - 553-2278