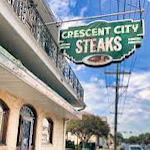 Crescent City Steak House is a classic New Orleans steakhouse that has been in operation since 1934. It is located in Mid-City at 1001 N. Broad St. The restaurant is known for its old-school charm, top-quality steaks, and exceptional service.
The menu at Crescent City Steak House features a variety of classic steakhouse dishes, including filet mignon, ribeye, and New York strip. In addition to their steaks, they also offer seafood dishes, such as shrimp scampi and oysters Rockefeller, as well as a range of appetizers and salads.
One of the most popular items on the menu is the signature "Crescent City" filet, which is a 16-ounce filet mignon that has been marinated in a special sauce for several days before being grilled to perfection. Other popular dishes include the porterhouse steak, the stuffed shrimp, and the crabmeat au gratin.
The atmosphere at Crescent City Steak House is cozy and intimate, with low lighting, red leather booths, and white tablecloths. The restaurant also has a full bar, where you can enjoy classic cocktails and a selection of wines and beers.
Crescent City Steak House is a must-visit for anyone looking for a classic New Orleans steakhouse experience. With its delicious food, exceptional service, and charming atmosphere, it is sure to be a memorable dining experience.
Crescent City Steak House: Steak, 1001 N Broad, New Orleans (Mid-City) map - 821-3271