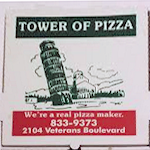 Tower of Pizza is a popular restaurant located in Metairie, Louisiana, known for its delicious hand-thrown thin crust style pizza. The restaurant has been in business for over 50 years and has become a local favorite.
In addition to pizza, Tower of Pizza offers Italian toss and artichoke salads bathed in a garlicky vinaigrette. Also popular is the spaghetti with house-made meatballs.
The atmosphere at Tower of Pizza is casual and relaxed, making it a great spot for a family dinner or a casual night out with friends. The restaurant decor is dark paneling, dim lighting and red-checked vinyl tablecloths. The kitchen's large windows give diners a view of their pizza being hand made.
In addition to its dining room, Tower of Pizza also offers takeout service, making it a convenient option for those who prefer to enjoy their meal at home.
Tower of Pizza is a must-visit restaurant for anyone in the Metairie area who is looking for authentic hand-tossed pizza in a casual and welcoming atmosphere.
Tower of Pizza: Pizza, 2104 Veterans Blvd, Metairie (Metairie Below Causeway) map - 833-9373