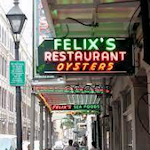 Felix's Restaurant & Oyster Bar is a popular New Orleans seafood restaurant and oyster bar. It was founded in 1940 and has been a staple of the French Quarter ever since. The restaurant is famous for its fresh oysters and other seafood dishes.
One of the most popular dishes at Felix's is the Charbroiled Oysters, which are fresh oysters that are grilled with butter, garlic, and Parmesan cheese. They also offer a variety of other seafood dishes such as shrimp po-boys, crawfish etouffee, and seafood gumbo.
In addition to its food, Felix's is also known for its lively atmosphere and friendly service. The restaurant has a casual, laid-back vibe and is a popular spot for locals and tourists alike.
Felix's is a must-visit destination for seafood lovers who are visiting New Orleans French Quarter. Its combination of fresh seafood, flavorful dishes, and fun atmosphere make it a favorite among both locals and visitors to the city.
Felix's Rest. & Oyster Bar: Seafood, 739 Iberville, New Orleans (French Quarter) map - 522-4440