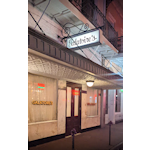 Galatoire's is a historic restaurant located in New Orleans, Louisiana. It was founded in 1905 by Jean Galatoire, a French immigrant, and has been family-owned and operated for over 100 years. Galatoire's is known for its classic Creole cuisine and lively atmosphere, and has become a beloved institution in the city.
The restaurant is famous for its Friday lunch tradition, where locals and tourists alike gather to enjoy classic New Orleans dishes such as shrimp remoulade, oysters Rockefeller, and souffle potatoes. Galatoire's also offers a full dinner menu featuring Creole classics like gumbo, jambalaya, and étouffée, as well as fresh seafood dishes and an extensive wine list.
The interior of Galatoire's is decorated with vintage chandeliers, marble floors, and white linen tablecloths. The restaurant has several dining rooms, including a second-floor balcony overlooking Bourbon Street, which is a popular spot for people-watching.
Galatoire's has been recognized by numerous publications and organizations, including the James Beard Foundation, which named it a "classic restaurant" in 2019. It has also been featured in several films and television shows set in New Orleans, including the HBO series "Treme."
Galatoire's is a must-visit for anyone looking to experience the vibrant culture and cuisine of New Orleans. Its combination of traditional Creole dishes, historic atmosphere, and lively ambiance make it a true New Orleans institution.
Galatoire's: Classic Creole, 209 Bourbon, New Orleans (French Quarter) map - 525-2021