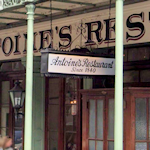 Antoine's was established in 1840 by Antoine Alciatore, a French immigrant who had previously worked as a chef in New York and Mobile, Alabama. Since then, it has been operated by five generations of the Alciatore family and has become one of the city's most iconic dining destinations.
Antoine's is known for its traditional French Creole cuisine, which includes dishes such as oysters Rockefeller, pompano en papillote, and crawfish étouffée. The restaurant also has a unique menu item called the "table d'hote," which is a five-course meal that changes daily and is served to the entire table.
The restaurant has a rich history and has hosted many famous guests over the years, including presidents, celebrities, and royalty. It is also known for its Mardi Gras traditions, including the creation of the Rex King's cake, which is served during the annual Mardi Gras parade.
Antoine's is housed in a historic building in the French Quarter of New Orleans and has multiple dining rooms, each with its own unique decor and ambiance. One of the most famous rooms is the Mystery Room, which was built in the early 1900s and features a secret entrance and a hidden bar.
Antoine's is a New Orleans institution and a must-visit destination for anyone interested in experiencing the city's rich culinary and cultural history.
Antoine's: Classic Creole, 713 St Louis, New Orleans (French Quarter) map - 581-4422