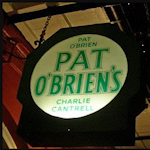 12.03.08 World-famous Pat O'Brien's Bar in New Orleans' French Quarter opened its doors (legally) for the first time 75 years ago this week.
Pat O'Brien's is a well-known bar located in New Orleans, Louisiana, that has been a popular destination for locals and tourists alike since it first opened its doors in 1933. The bar is located in the heart of the French Quarter and is famous for its unique atmosphere, friendly staff, and signature cocktails.
One of the most famous drinks served at Pat O'Brien's is the Hurricane, which is made with rum, passion fruit syrup, and lime juice. This cocktail has become a staple of New Orleans culture and is often associated with Mardi Gras celebrations.
In addition to the Hurricane, Pat O'Brien's also serves a variety of other cocktails, beers, and wines. The bar features multiple rooms, including a main bar area, a courtyard, and a piano lounge, where patrons can relax and enjoy their drinks.
Pat O'Brien's has also become a popular destination for live music, with musicians performing nightly in the piano lounge. The bar has hosted many famous musicians over the years, including Louis Armstrong, Harry Connick Jr., and Jimmy Buffett.
Pat O'Brien's is an iconic bar in New Orleans that offers a unique and memorable experience for anyone who visits. Whether you're a local looking for a fun night out or a tourist exploring the city, Pat O'Brien's is definitely worth a visit.
Pat O'Brien's: [Bar/Nightclub], 718 St Peter, New Orleans (French Quarter) map - 525-4823