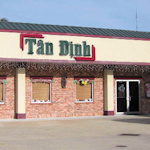 Tan Dinh is a popular Vietnamese restaurant located in Gretna, across the Mississippi River from New Orleans. The restaurant has been serving authentic Vietnamese cuisine since 1982 and is a favorite among locals and visitors alike.
The menu at Tan Dinh features a wide range of Vietnamese dishes, including pho (the traditional Vietnamese soup), vermicelli bowls, banh mi sandwiches, spring rolls, and a variety of stir-fried dishes. The restaurant is also known for its crispy fried fish, which is a must-try for seafood lovers.
One of the standout dishes at Tan Dinh is the bun bo hue, a spicy beef noodle soup that is a specialty of central Vietnam. Another popular dish is the banh xeo, a crispy Vietnamese-style crepe filled with pork, shrimp, and bean sprouts.
The atmosphere at Tan Dinh is casual and relaxed, with traditional Vietnamese decorations and comfortable seating. The restaurant is open for lunch and dinner seven days a week, and it's a popular spot for both dine-in and takeout.
Tan Dinh is a great choice for anyone looking to experience authentic Vietnamese cuisine in New Orleans. With its extensive menu and friendly atmosphere, it's no surprise that this restaurant has been a favorite among locals for over 40 years.
Tan Dinh: Vietnamese, 2004 Belle Chasse Hwy, Gretna (Westbank) map - 361-8008