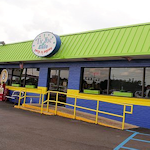 Tic Toc Cafe is a popular diner located in Metairie. It has been serving customers since 1991 and is known for its classic Southern cuisine and casual, family-friendly atmosphere.
The restaurant is particularly famous for its breakfast menu, which features a range of dishes such as omelets, pancakes, waffles, and breakfast sandwiches. Some of their most popular dishes include biscuits and gravy, and the Tic Toc Trio, which is a breakfast platter with eggs, bacon, sausage, and grits.
In addition to breakfast, Tic Toc Cafe also serves lunch and dinner. Their menu includes a range of classic Southern dishes, such as chicken fried steak, po' boys, and burgers. They also offer daily specials, including seafood dishes and homemade desserts.
The restaurant has a casual, diner-like atmosphere, with booths and counter seating available. The staff is friendly and welcoming, and the prices are reasonable, making it a popular spot for both locals and tourists.
Tic Toc Cafe is a great choice for anyone looking for classic Southern comfort food in a casual, friendly environment.
Tic Toc Cafe: Diner/Neighborhood Cafe, 3205 36th(I-10 Svc Rd South at Causeway Blvd), Metairie (Metairie Above Causeway) map - 834-6272