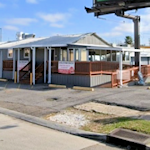 Smitty's Seafood is a local seafood restaurant located in Kenner, Louisiana. It has been in operation since 1992 and is known for its fried seafood dishes, and boiled seafood including crawfish, shrimp, and crab. The restaurant has a casual atmosphere with table and booth seating options. Some popular dishes at Smitty's Seafood include the crawfish étouffée, seafood gumbo, fried catfish, and oysters.
In addition to its regular menu, Smitty's Seafood also offers daily specials and a wide selection of appetizers. The restaurant is open for lunch and dinner and also offers catering services for events.
Smitty's Seafood is a popular local spot for seafood lovers in the Kenner and Metairie area, and its reputation for fresh seafood and friendly service has made it a staple in the community.
Smitty's Seafood: Seafood, 2000 West Esplanade, Kenner (Kenner Above I-10) map - 468-1647