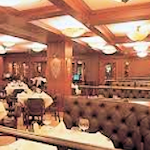 Dickie Brennan's Steakhouse is a well-known restaurant located in New Orleans' French Quarter, known for its delicious steaks and seafood dishes. The restaurant is part of the Dickie Brennan & Co. restaurant group, which includes several other popular dining spots in the city.
The steakhouse has a classic, upscale atmosphere, with elegant decor and a menu that features a variety of steak cuts, as well as other meat and seafood options. Some popular dishes include the filet mignon, bone-in ribeye, and the seafood platter, which features a selection of fresh Gulf Coast seafood.
Dickie Brennan's Steakhouse also has an extensive wine list, with a focus on American and French wines, as well as a variety of cocktails and other drinks. The restaurant has received numerous accolades over the years, including being named one of the best steakhouses in the country by Zagat and one of the top restaurants in New Orleans by local publications.
Dickie Brennan's Steakhouse is a must-visit destination for foodies and steak lovers visiting New Orleans, offering a top-notch dining experience in a beautiful setting.
Dickie Brennan's Steakhouse: Steak, 716 Iberville, New Orleans (French Quarter) map - 522-2467