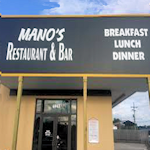 Mano's is a popular restaurant located in Metairie. The restaurant is known for serving traditional New Orleans-style po'boy sandwiches, as well as other classic Louisiana and Italian dishes.
The menu at Mano's features a variety of po'boy options, including roast beef, shrimp, oyster, catfish, and hot sausage. All of the sandwiches are served on fresh French bread and come dressed with lettuce, tomato, and mayonnaise. The restaurant also offers a range of side dishes, such as French fries and onion rings
In addition to their po'boys, Mano's features daily lunch specials, and also serves a selection of classic New Orleans dishes, such as red beans and rice. They also have a variety of seafood dishes, including grilled or fried shrimp plates. Country fried steak and spaghetti with veal parmesan are other popular offerings. A full service bar is also available.
Mano's has a casual and laid-back atmosphere, and the staff is known for being friendly and welcoming. The restaurant is popular with locals for its consistency and generous portions, and it's a great place to stop for a quick and delicious meal.
Mano's Po-Boys: Sandwiches/Deli, 6943 Saints Dr, Metairie (Metairie Above Causeway) map - 734-0922