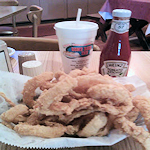 Come Back Inn has been serving up delicious food in Metairie since 1966. Along with New Orleans neighborhood diner staples like red beans and rice, pasta dishes, po-boys and pizza, Come Back features fried seafood including shrimp, catfish and oysters. Another specialty is their cooked-to-order fried chicken.
Come Back Inn does a brisk dine-in lunch and dinner business as well as take-out. The daily specials and house-made soups are popular.
Seafood platters include generous portions and a mountain of french fries. Dinner entrees include vegetable, bread and salad. Beverages include bottled beer, fountain and bottled soft drinks, and iced tea.
Be sure to try the house-made onion rings; the small order is big enough for two.
Come Back Inn: Sandwiches/Deli, 8016 West Metairie Ave, Metairie (Metairie Above Causeway) map - 467-9316