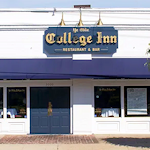 Ye Olde College Inn is a historic New Orleans restaurant that has been serving customers since 1933. It is located in the Carrollton neighborhood, a stone's throw from Tulane and Loyola Universities. The restaurant is known for its classic Creole cuisine, featuring dishes such as turkey and andouille gumbo, BBQ shrimp, and fried green tomatoes.
The atmosphere at Ye Olde College Inn is cozy and comfortable, with a bar area that has a vintage feel. The menu features a variety of options, including seafood, meat, and vegetarian dishes, as well as classic New Orleans cocktails.
In addition to its restaurant business, Ye Olde College Inn is also known for its catering services. The restaurant has provided catering for events such as weddings, corporate functions, and private parties.
Ye Olde College Inn is a beloved institution in New Orleans, offering delicious food, friendly service, and a unique atmosphere.
Ye Olde College Inn: Diner/Neighborhood Cafe, 3000 S Carrollton Ave, New Orleans (Carrollton) map - 866-3683