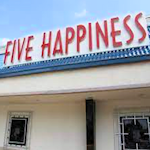 Five Happiness is a popular Chinese restaurant located in Mid-City New Orleans. The restaurant has been serving authentic Chinese cuisine to locals and tourists alike for over 30 years.
The restaurant's menu features a wide range of traditional Chinese dishes, such as Kung Pao Chicken, Moo Shu Pork, and General Tso's Chicken, as well as some less commonly found dishes like salt and pepper squid and eggplant with garlic sauce.
The restaurant has a casual and comfortable atmosphere, with traditional Chinese decor and a friendly and attentive staff. They offer both dine-in and takeout options, and they are open for lunch and dinner.
Five Happiness is known for its large portions, reasonable prices, and excellent food quality. It has received numerous awards and recognition over the years, including being named one of the "Top 100 Chinese Restaurants in the United States" by Chinese Restaurant News.
If you are in the New Orleans area and looking for some delicious Chinese cuisine, Five Happiness is definitely worth checking out!
Five Happiness: Chinese, 3605 S Carrollton, New Orleans (Mid-City) map - 482-3935