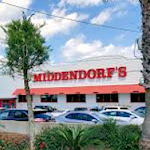 Middendorf's is a historic seafood restaurant located in Akers, Louisiana, about 30 miles west of New Orleans. The restaurant was founded in 1934 by Louis Middendorf, Sr., and has been a popular destination for seafood lovers ever since.
Middendorf's is famous for its thin-cut fried catfish, which is sliced paper-thin and fried until crispy, making it a unique and delicious culinary experience. The restaurant's menu also includes other seafood dishes such as shrimp, oysters, and crab.
In addition to its delicious food, Middendorf's is known for its rustic atmosphere, spacious dining rooms and large outdoor patio overlooking the water, which makes it a popular spot for both locals and tourists.
Over the years, Middendorf's has received numerous awards and accolades for its food and service, including being named one of the "Top 10 Seafood Restaurants in the United States" by Bon Appetit magazine. It is definitely worth a visit if you're in the New Orleans area and looking for a memorable seafood dining experience.
Middendorf's: Seafood, 75 Manchac Way(at Pass Manchac), Akers (Florida Parishes) map - 985-386-6666