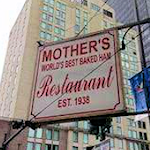 Mother's is a famous restaurant located in downtown New Orleans, that specializes in traditional Southern comfort food. The restaurant was established in 1938 by Simon and Mary Landry and has been serving its classic dishes for over 80 years.
One of the most popular dishes at Mother's is the "Ferdi Special," which is a po' boy sandwich filled with roast beef, ham, debris (the bits of meat that fall off during cooking), and gravy. Other popular menu items include the jambalaya, gumbo, and red beans and rice.
Mother's has become a New Orleans institution and a must-visit for tourists and locals alike. The restaurant has been featured on many food shows, including "Diners, Drive-ins, and Dives," and has won numerous awards for its delicious food and friendly service.
If you're visiting New Orleans, be sure to stop by Mother's and try their famous dishes for yourself. Just be prepared to wait in line, as the restaurant is often busy and crowded, but the food is definitely worth the wait!
Mother's: Sandwiches/Deli, 401 Poydras, New Orleans (CBD) map - 523-9656