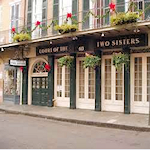 The Court of Two Sisters is a well-known restaurant located in the French Quarter of New Orleans. It is situated on the corner of Royal Street and Orleans Street, and it has been in operation since 1963.
The restaurant is housed in a historic building that was originally constructed in the late 1800s. The building is known for its beautiful courtyard, which is filled with lush greenery and a picturesque fountain. The courtyard is named after the two sisters who once lived in the building, Emma and Bertha Camors.
The Court of Two Sisters is famous for its daily jazz brunch, which features a vast array of traditional New Orleans dishes such as gumbo, jambalaya, and red beans and rice. The brunch also includes a variety of seafood, salads, and desserts. In addition to brunch, the restaurant offers a dinner menu that showcases classic Creole and Cajun cuisine.
The restaurant also boasts an extensive wine list and offers a selection of classic New Orleans cocktails such as the Sazerac and the Hurricane. Guests can enjoy their meal in the elegant indoor dining room or in the picturesque courtyard, which is adorned with twinkling lights and is often the site of live music performances.
The Court of Two Sisters has been a fixture in the New Orleans dining scene for decades and is beloved by locals and tourists alike for its delicious food, beautiful atmosphere, and lively entertainment.
Court of Two Sisters: Classic Creole, 613 Royal St, New Orleans (French Quarter) map - 522-7273