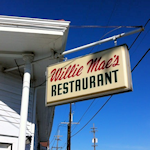 Willie Mae's Scotch House is a historic restaurant located in New Orleans' Mid-City, that is famous for its fried chicken. The restaurant was founded in 1957 by Willie Mae Seaton, who started serving her signature dish of fried chicken out of her home before opening a restaurant in the Treme neighborhood.
Over the years, Willie Mae's Scotch House has become a beloved institution in New Orleans and has won numerous awards and accolades for its food, including being named America's Best Fried Chicken by the Food Network in 2005. The restaurant has also been featured in various media outlets, including the New York Times, Southern Living, and Travel + Leisure.
The menu at Willie Mae's Scotch House includes classic Southern dishes such as fried chicken, red beans and rice, and macaroni and cheese, as well as seafood options like shrimp and catfish. The restaurant also serves a variety of sides and desserts, including collard greens, cornbread, and sweet potato pie.
In addition to its delicious food, Willie Mae's Scotch House is also known for its welcoming atmosphere and friendly service. The restaurant has been family-owned and operated since it was founded, and it continues to be a popular destination for locals and tourists alike.
Willie Mae's Scotch House: Diner/Neighborhood Cafe, 2401 St Ann, New Orleans (Mid-City) map - 822-9503