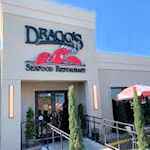 Drago's seafood restaurant is best known for its charbroiled oysters. The restaurant was established in 1969 by Drago and Klara Cvitanovich and is now run by their children, Tommy and Gerald Cvitanovich.
In addition to their famous charbroiled oysters, Drago's menu features a variety of seafood dishes, including shrimp, crab, lobster, and fish. Some of their most popular dishes include the seafood gumbo, BBQ shrimp, and seafood platter. They also offer non-seafood options like steak and chicken.
The restaurant has multiple locations, including their original location in Metairie, Louisiana, and other locations in New Orleans, Baton Rouge, and Lafayette. They have won numerous awards, including being named one of the "Top 10 Seafood Restaurants in America" by Bon Appetit magazine.
The restaurant has a casual atmosphere and is popular among locals and tourists alike. Reservations are recommended, especially during peak dining hours.
Drago's: Seafood, 3232 N Arnoult Rd, Metairie (Metairie Above Causeway) map - 888-9254
Drago's: Seafood, 2 Poydras St(in the Hilton Hotel), New Orleans (CBD) map - 584-3911