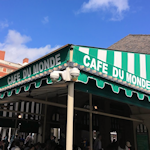 Café Du Monde is a historic coffee shop in New Orleans, Louisiana, USA. It was established in 1862, and it has since become a popular destination for tourists and locals alike.
Café Du Monde is famous for its signature offering, beignets. Beignets are deep-fried doughnuts that are covered with powdered sugar. They are served in orders of three and are a staple of New Orleans cuisine. Café Du Monde is also known for its café au lait, which is a traditional New Orleans coffee made with chicory and served with hot milk.
The restaurant is located in the French Quarter of New Orleans, and it is open 24 hours a day, seven days a week. It is a casual, walk-in restaurant, and there is often a line to get in, especially during peak tourist seasons.
Café Du Monde has become an iconic symbol of New Orleans, and it is a must-visit destination for anyone traveling to the city. The restaurant has been featured in numerous movies, television shows, and books, and it has a long and storied history in the city.
Cafe Du Monde: Coffee/Beignet, 800 Decatur St, New Orleans (French Quarter) map - 525-4544