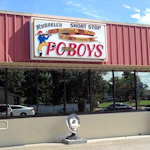 Short Stop Po-Boys is a restaurant located in Metairie, that is known for its delicious and authentic po-boy sandwiches. The restaurant has been in operation since 1966 and has become a staple in the local community.
The menu at Short Stop Po-Boys features a wide variety of po-boy sandwiches, including classic options like roast beef, ham, fried shrimp, and fried oyster, as well as a selection of sausages. The sandwiches are served on fresh, crispy French bread and can be dressed with lettuce, tomato, mayo, pickles, and several different sliced cheeses.
In addition to po-boys, Short Stop also serves other classic New Orleans dishes like gumbo and jambalaya. The restaurant is also known for its friendly and welcoming atmosphere, as well as its reasonable prices.
The Short Stop operation is a model of efficiency. Patrons form a single line and wait for one of several sandwich makers to call them to the kitchen's wide pass window to place their order. While waiting, they can choose chips, bottled drinks or other items from nearby racks and coolers. Sandwich makers hand the butcher paper-wrapped sandwiches back through the window to be taken to the cashier. Short codes written on each let the cashier know what to charge. Fountain drinks are also available from the cashier. Refills are 25 cents, but can be paid for in advance-- the cashier will mark your cup. Seating is in multiple long rows of fixed, cafeteria-style booths.
If you're in Metairie and looking for an authentic po-boy experience, Short Stop is definitely worth a visit.
Short Stop Po-Boys: Sandwiches/Deli, 119 Transcontinental Dr, Metairie (Metairie Above Causeway) map - 885-4572