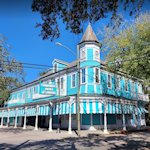 Commander's Palace is a historic restaurant located in the Garden District of New Orleans, Louisiana. It was established in 1893 and has been a landmark of the city's dining scene ever since. The restaurant is known for its elegant Creole cuisine, outstanding service, and stunning ambiance.
Commander's Palace is renowned for its award-winning chefs and has been the training ground for many of the city's top culinary talents. The menu features classic New Orleans dishes such as turtle soup, shrimp and grits, and the famous Commander's Palace bread pudding souffle.
The restaurant's décor is elegant and sophisticated, with colorful murals, chandeliers, and an extensive collection of vintage photographs and artwork. The dining rooms are adorned with white tablecloths, fine china, and crystal stemware, creating an atmosphere of refinement and luxury.
Commander's Palace is also famous for its extensive wine cellar, which houses over 20,000 bottles of wine from around the world. The restaurant has won numerous awards for its wine program, including the Wine Spectator Grand Award.
In addition to its exceptional food and wine, Commander's Palace is known for its legendary hospitality. The restaurant's staff is trained to provide impeccable service, and diners are made to feel like VIPs from the moment they arrive.
Overall, Commander's Palace is a must-visit destination for foodies and anyone looking for a memorable dining experience in New Orleans.
Commander's Palace: Contemporary Creole, 1403 Washington Ave, New Orleans (Garden District) map - 899-8221