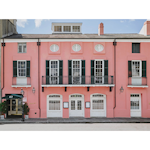 Brennan's is a historic and iconic restaurant located in the heart of the French Quarter in New Orleans, Louisiana. It was originally opened in 1946 by Owen Brennan and his family, and has since become a beloved institution in the city.
Brennan's is perhaps most famous for its breakfast and brunch offerings, which include classics like Eggs Benedict, Bananas Foster French Toast, and Shrimp and Grits. The restaurant also offers a variety of Creole and French-inspired dishes for lunch and dinner, including Turtle Soup, Oysters Rockefeller, and Duck a l'Orange.
In addition to its delicious food, Brennan's is also known for its elegant atmosphere and beautiful courtyard, which features a fountain and lush greenery. The restaurant has undergone several renovations over the years, but has maintained its classic New Orleans charm and style.
Brennan's is also known for its extensive wine list and cocktail menu, featuring classic drinks like the Sazerac and the French 75, as well as unique creations like the Pink Flamingo and the Brennan's Irish Coffee.
Brennan's is considered a must-visit destination for anyone looking to experience the best of New Orleans cuisine and culture.
Brennan's Restaurant: Classic Creole, 417 Royal St, New Orleans (French Quarter) map - 525-9711