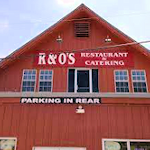 R&O Restaurant is a popular eatery located in the Bucktown section of Metairie. It has been a fixture in the city's dining scene since 1980 and is known for its authentic Italian and Creole cuisine.
One of the restaurant's most famous dishes is their signature roast beef po-boy sandwich, which features slow-cooked roast beef served on crispy French bread and dressed with lettuce, tomato, and mayonnaise. Other popular menu items include seafood gumbo, fried shrimp, pizza and Italian dishes.
The restaurant's casual and lively atmosphere, coupled with its extensive menu and generous portions, have made it a popular spot among locals and tourists alike.
R&O Restaurant is a beloved establishment in New Orleans that continues to serve up delicious food and welcoming hospitality to its patrons.
R&O Restaurant: Seafood, 216 Metairie Hammond Hwy, Metairie (Bucktown) map - 831-1248