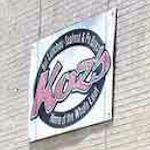 Koz's Restaurant has been operating in Harahan since 2005, and is primarily known for its po-boy sandwiches and other casual neighborhood diner fare. Menu staples include red beans and rice, country fried steak, and meatballs and spaghetti. Grilled and fried seafoods, fried chicken, salads, soups and wraps round out the offerings, all reasonably priced.
Koz's Restaurant's roots are in a Gentilly institution called the Bakery, aka "Po-boy Bakery", which operated on Franklin Avenue from the early 1960s, and where Gary "Koz" Gruenig worked ever since the day in 1965 when owner Jerry Seely gave then-12-year-old Gary an after-school job there. A regular at the Bakery likened the youngster's wild zooming around on his bicycle to "a kamikaze pilot without the plane." Kamikaze was shortened to just "Koz".
The nickname stuck, as did Koz, who worked at the Bakery for the next 40 years, until levee failures after Hurricane Katrina destroyed the building and Seely moved away to Eunice, LA. A regular patron of the Bakery offered a lease on restaurant space just off Hickory Ave. in Harahan, and Koz took the leap. Koz's Restaurant opened its doors just three months after Katrina. A few years later, in 2009, a second Koz's was opened in Lakeview by Gary's son, Max, in the old Charlie's Deli location on Harrison Avenue, but it has since closed in 2018. A third location existed briefly in 2015, in what was formerly Caffe Fresca on West Metairie Ave.
Koz's: Sandwiches/Deli, 6215 Wilson, Harahan (Harahan) map - 737-3933