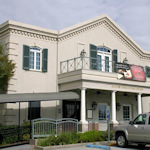 Ruth's Chris Steak House is a chain of high-end steakhouse restaurants that has locations all around the world.
Chris Steak House was founded on February 27, 1927 by New Orleans entrepreneur Chris Matulich. It was located at 1100 North Broad St. After several sales and buybacks by Matulich over the years, Ruth Fertel acquired the restaurant in 1965.
A fire in 1976 forced a relocation of the restaurant to a few blocks away at 711 North Broad. Due to contractual obligations, Fertel was precluded from using the original name at any other address, so she named the new restaurant Ruth's Chris Steak House. That year Fertel also began exploring franchising opportunities, and by 1999, the chain had grown to 66 U.S. and overseas locations.
The restaurant is known for its high-quality beef, which is aged for at least 28 days to enhance its flavor and tenderness. Ruth's Chris also has a unique cooking method, which involves searing the steaks at a high temperature and finishing them in a 500-degree oven, resulting in a perfectly cooked and juicy steak.
One of its locations is in Metairie, a suburb of New Orleans. As do all of its franchised locations, Ruth's Chris Steak House in Metairie offers diners an elegant and sophisticated atmosphere, with a menu that features a selection of prime steaks, as well as seafood, salads, and other classic steakhouse sides.
In addition to their steaks, the restaurant offers a variety of other menu items, such as lamb chops, shrimp, lobster, and salmon. They also have an extensive wine list featuring both domestic and international selections.
Ruth's Chris Steak House in Metairie offers a luxurious dining experience with a focus on high-quality ingredients and expertly cooked steaks.
Ruth's Chris Steak House: Steak, 3633 Veterans Blvd, Metairie (Metairie Above Causeway) map - 888-3600
Ruth's Chris Steak House: Steak, 228 Poydras St(in Harrah's Hotel), New Orleans (CBD) map - 587-7099